30 junio 2013
7
30
/

06
/

junio
/

2013
10:31
SEGUNDA PARTE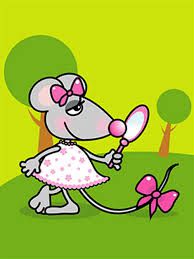 "You are wrong, if you think that I am the mightiest," said the Cloud. "It's true that I can cover the earth, but I'm quite weak when the Wind blows upon me. He drives me along and tears me to pieces, and I can do nothing against him."
So Mr. and Mrs. Rat went to the Wind.
But the Wind said:
"Yes, I am mightier than the Cloud. But I am not the mightiest in the world; for the Wall is sometimes in my way, and I blow and blow, but the Wall is still there and I cannot pass through it."
Again Mr. and Mrs. Rat went on, until they came to the Wall. But the Wall said:
"You are right, I can indeed hold back the Wind, I am mightier than he. But there's the Rat, who makes holes in me and I can do nothing agains him. The best thing for you todo es to choose the Rat for your son-in-low!"
Then Mr. and Mrs. Rat were happy, for they saw that the Wall spoke words of wisdom. They went home again, and their beautiful daughter married a handsome RatK and they lived happily for many, many years.
Who knows? Perhaps they are still alive.
ANSWER THESE QUESTIONS
Did the rats have only one child?

What do you know about their youngest daughter?

What did her parents say about her?

Did they think that and ordinary husband was good enough for her?

Whom did they asd, who was the mightiest?

To whom did they go first?

Did the sun become their son-in-law?

Why not?

Can the light of the sun pass through all cluds?

Can you see any cluds now?

What does the wind do to the clouds?

What does the clouds make very beautiful?

What can the wind not pass through?

What do Mr. and Mrs. Rat make happy?

Whom did their daughter marry?

Are they still alive?